Piccolo parties has been providing bespoke events since 2008
We specialise in creating fantastic events for kids birthday parties, weddings, baby showers and special events. We pride ourselves in our excellent reputation of delivering bespoke quality services at all our events.
With 10 years of experience providing children's parties, we are extremely experienced in providing full themed parties including everything you need to ensure your party is a hit. Themed characters, themed music- we create bespoke decorated areas to ensure your idea comes to life.
We have various venues to suit all your needs. Large spaces, spaces with gardens, historic buildings etc.
At present, we have venues in Chiswick, Fulham, Kensington, Richmond, Ealing, and Surrey. We can also come to you and source new venues based on your needs. Venue prices start from £140 (venues require a minimum of three hours booking: 2-hour party with 30 minutes on either side for decorating and cleaning).
With over 10 years of experience, we can provide the very best in fun and games to ensure that all your little guests have a blast.
1-hour standard entertainment: £150
1-hour themed entertainment: £165
2-hours standard entertainment: £185
2-hours themed entertainment: £200
Parties with a difference
We pride ourselves in providing one-off memorable parties. We offer a range of options that can make your party a very unique experience, from gaming buses, to horse riding parties, parties on the river and even party in the sky. Ask our team for more information if you want to experience something little different.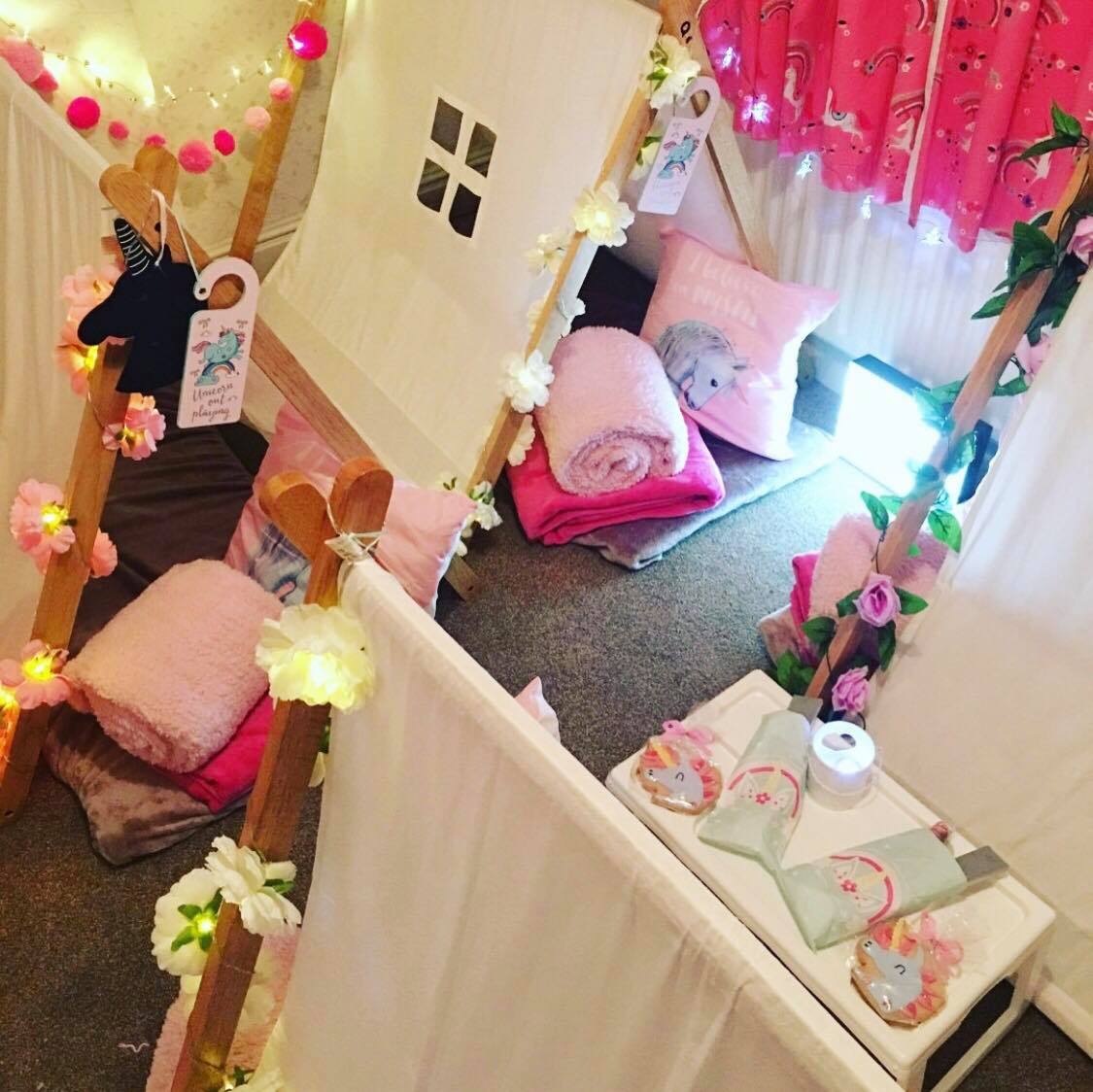 We have a fab selection of awesome sleeping tents perfect for your little ones and their best friends' sleepovers. Our tents come in plain cream fabric and can be decorated to suit various themes, both for boys and girls.
We have an option for two single tents starting at £80 for sibling or best friend sleepovers.
4 x sleeping tents (in your chosen theme), with mats, blankets, covers, breakfast trays, lightbox, inflatable mattress, fitted sheets, cushions, lights and accessories: £180 (includes set up and delivery)

Pump up your pyjama party with an in-house cinema: £60 (includes projector and projector screen)

Midnight snack boxes: £3.50 each

A sleepover host to offer face masks, hair braiding, etc. : £100
We also offer everything you need to give your party that little extra touch.
Party bags starting from £3.
Helium balloons starting from £2.75.
Bouncy castles starting from £85.
Popcorn/candy floss machine starting from £50.
Mascots starting from £30 (manned £50).
We can offer a full baby shower themed set up, from jungle to baby boy/baby girl themed, including full decorated areas with chair covers and baby boxes,  along with full entertainment including baby shower games and prizes. Prices start from £150.
We can provide fantastic top secret gender reveals set up, with fab decorations, balloons, backdrops gender reveal balloon, personalised mummy and daddy champagne flutes, backdrops, balloon installations, mini gift for guest whatever you need for the perfect gender reveal.
Plan your perfect party with piccolo