Piccolo Parties Halloween DIY top tips
So many of us are going to miss the traditional way we normally celebrate Halloween.
A much loved festive holiday for all children and big children alike.
We at piccolo love the holiday seasons and Halloween is no exception. At this time of year, we would be surrounded in Halloween themed balloons, prepping for spooky celebrations and adding finishing touches to spooky sleepover tents.
So many children have lost so much this year already. Let's not let Halloween celebrations be another one.
Here is a quick guild to a spook-fabulous DIY Halloween at home for under £20 and using bits and bobs you have around the house Frankenstein and mummy Rice Krispie Treats.
These Halloween rice Krispie treats perfect for Halloween.
An easy Halloween treat I managed to make them in under 30 mins all in (even with my 3 year old was doing more messing then helping)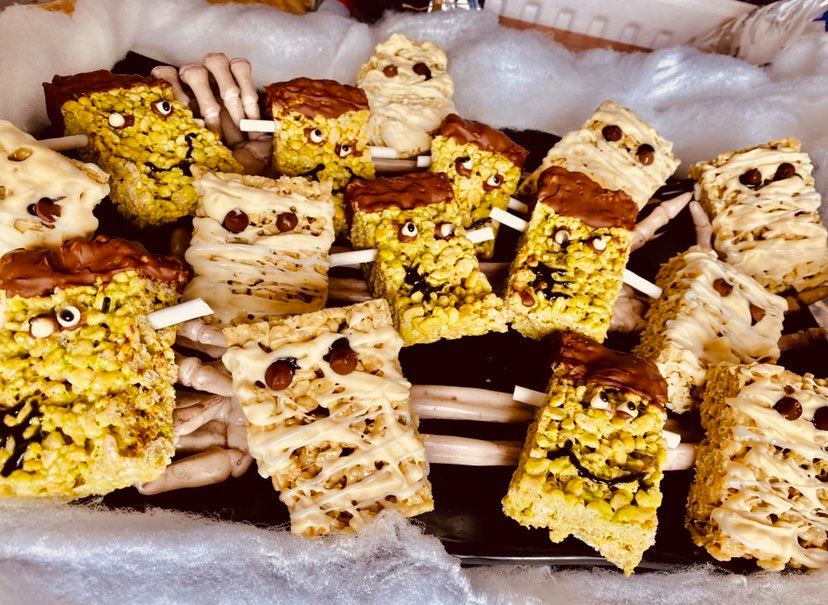 Ingredients and equipment
Saucepan
Wooden spoon
Flat spatula
X 2 glass bowls
15inch baking tray
Crisp Rice Cereal 200 grams £1:25p
Butter 50g £1
Marshmallows 300 £1
Green Food Coloring 2 caps
Cooking Spray
Milk Chocolate Chips 70 grams £1
White chocolate chips
Candy sticks £1
Writing Icing £1 (I got a pack with three colours for £1 shop)
TO MAKE
In a glass microwave safe bowl add butter and marshmallows. Microwave on high for 2 minutes, remove from microwave and stir. Microwave for a bit longer if marshmallows are not melted they may look puffy until you stir them.
Mix in green food colouring when butter and marshmallows are smooth.
At this point it gets really gooey and Halloween like.
Mix in the rice Krispies cereal and stir until the cereal is well coated. It will be a bit tough and sticky.
Spoon into a greased baking tin and with greased spoon press into the tin
Put in the fridge while you melt the choc or for around 5/10 mins so they become harder.
In a microwave safe bowl, melt the chocolate chips, stir until melted and smooth.
Then take tin out of the fridge cut in to rectangles and dip in to choc on the top to make hair.
Add white choc chips (if your making the next mummy version you will have these) for eyes use a bit of choc underneath to stick them add a dot of black writing icing for eyes and break a candy stick in half
stick in to each side.
For the mummy crispy monster repeat steps above.
However do not add green food colour.
I made both my versions at the same time so half the ingredients above.
For example we're I said 200 grams of rice crispy 100 were for green monsters and 100 was for white monsters, 25 grams of butter each.
Replace milk choc for white choc do melt an additional 70 grams of choc this is To layer of the crispy cakes to look like mummy wraps do the same for eyes. But using a few of the milk choc chips.
White choc cools faster so try and work a bit faster or melt the white choc over a pan and leave it sitting in the bowl over hot water.
(Be super careful when doing so)
As before when the choc is melted just use a spoon to drizzle over the whole crispy cake to layer it so it looks like mummy wrapping.
I used the spoon scrapping along back and fourth then use the white writing You have from your pack to do the same making layers.
These can be enjoyed straight away or frozen.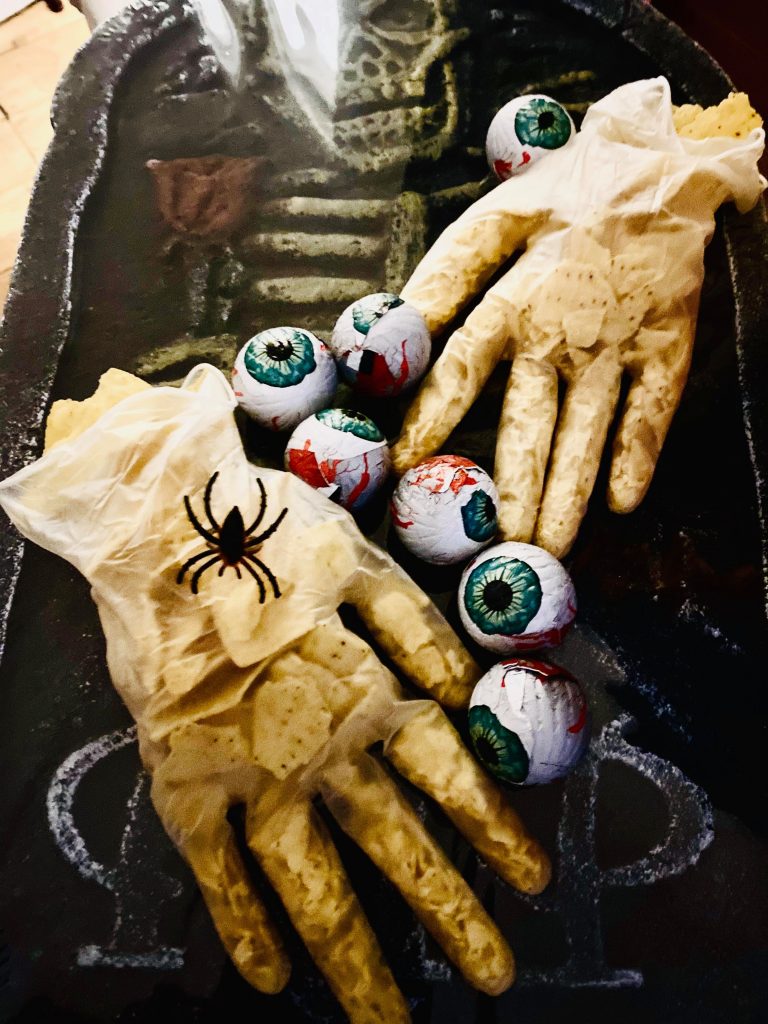 Savoury Bits
On to some savoury bits.
We have all gotten used to seeing those clear plastic gloves!!
Well we are going to use them not for PPE but to make spooky hands.
Wash gloves out first let dry.
Then fill with popcorn or smashed up crisps add some salsa to the top to make them extra delicious and spooky.

What you need
Plastic gloves if you don't have any around maybe ask someone most people still have them or local shop to give you a couple Then add your filling of your choice (crisps and salsa is my fav option)
Now to drinks
Spooky punch
Again with some plastic gloves.
Fill with water tie at the top with rubber band and freezing over night.
Then cut glove off to expose frozen hand pop this in some red juice and you have spooky punch.
Top tip try and make sure the glove fingers done touch each when freezing as it's easier to get gloves off.
Done if the fingers might fall off but don't worry it adds to the effect.
Witches water
With water bottles x 4 for £1.50.
And some black card or paper make a cone shape for the top of witches hat.
Draw around the lid part then around that draw a square cut out the round lid part then put over lid fold cone black card around.
And secure with tape this will look Like a witches hat. You have your witches water.
To make it a bit more special Make a witches broom with a paper straw and old brown paper (use a veg bag or anything really you have lying around) cut a long strip cut little lines all across fold around straw and secure with a piece of string.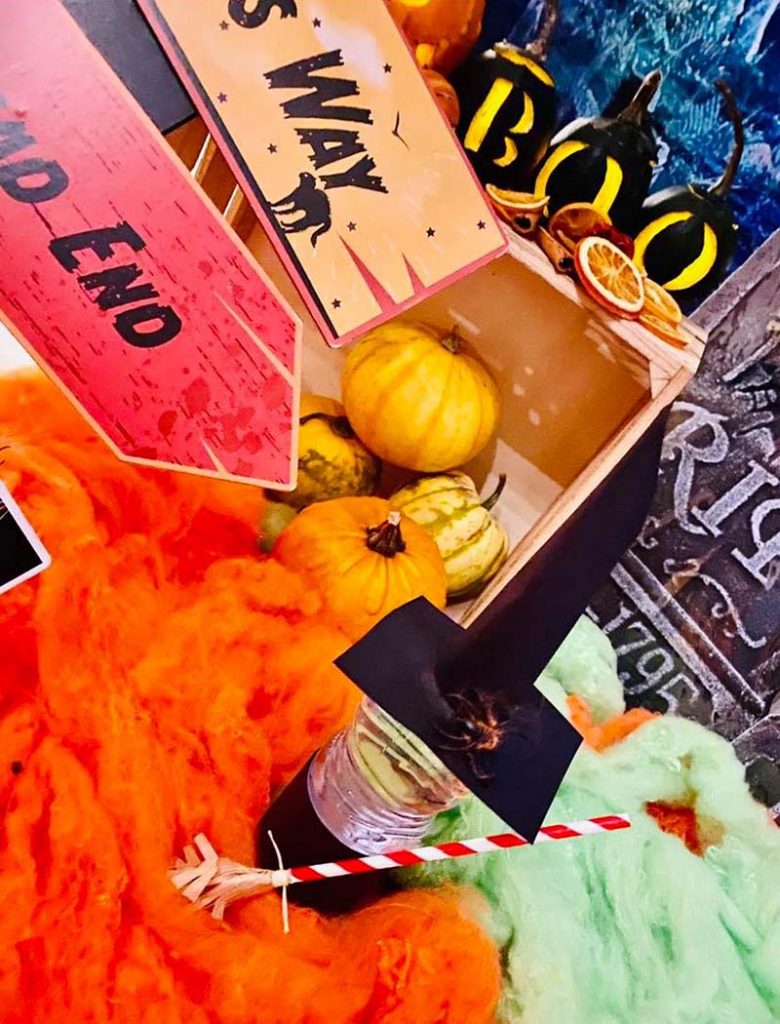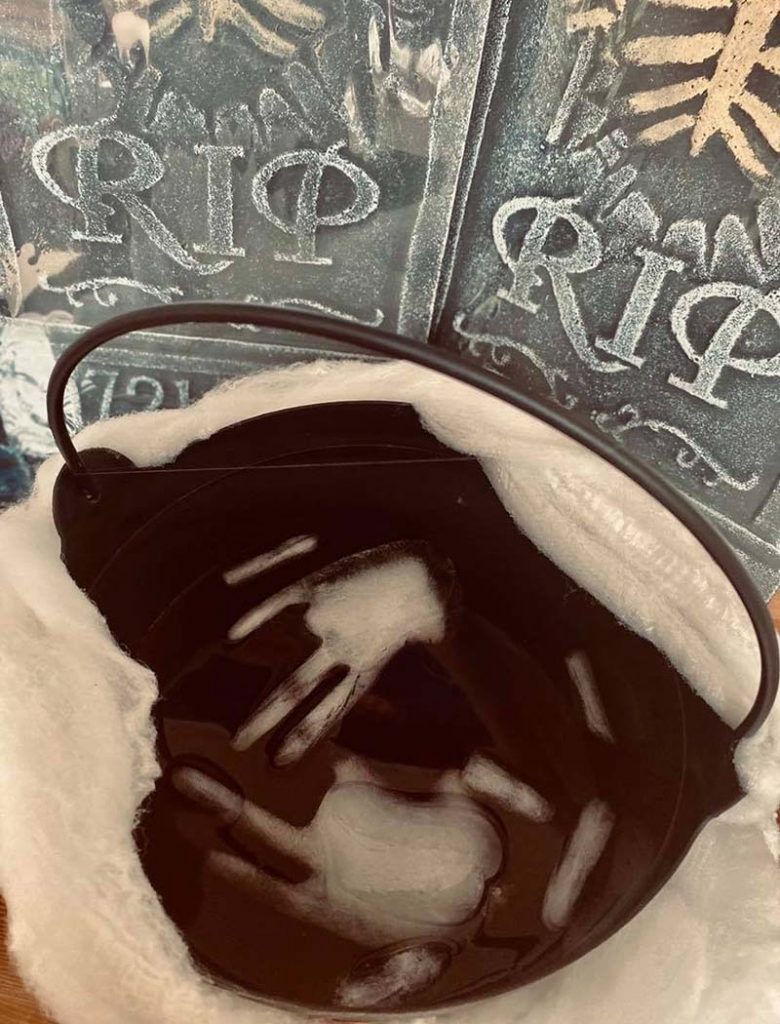 Decorations & Games
Spooky Spider Balloons
For your spooky spider you will need some black balloons.
6 long black balloons or long strings of black paper, white sticky labels or white paint.
Step one blow both balloons one so it's a tear drop shape as large as possible with out popping the other more rounded and slightly smaller.
Then with the neck of balloon (the part you tie) tie each of them together.
Blow the remaining long balloons to make legs tie three either side in to neck of round balloons then use some paper or address label to make eyes (if you do not have or can not get long modelling balloons use cut out black bags and you have your spider prop up or hang as a decoration.
To make it a bit more fun fill the larger balloon with small sweets before blowing up to be used as a piñata then pop for a fun game later to get the sweet out.
Another game you can play is wrap the mummy.
Using toilet tissue you have a set time to try and wrap one another from head too toe making the best mummy.
Lastly with an old sheet you can make a spooky back drop using red food colouring and hand prints of spills.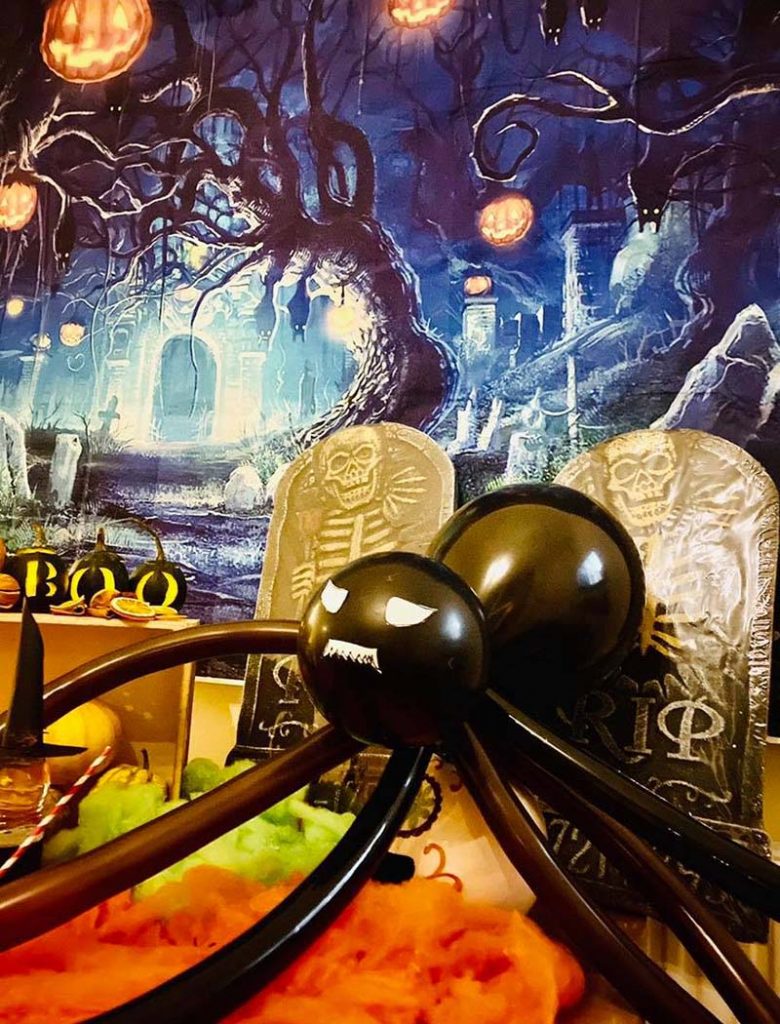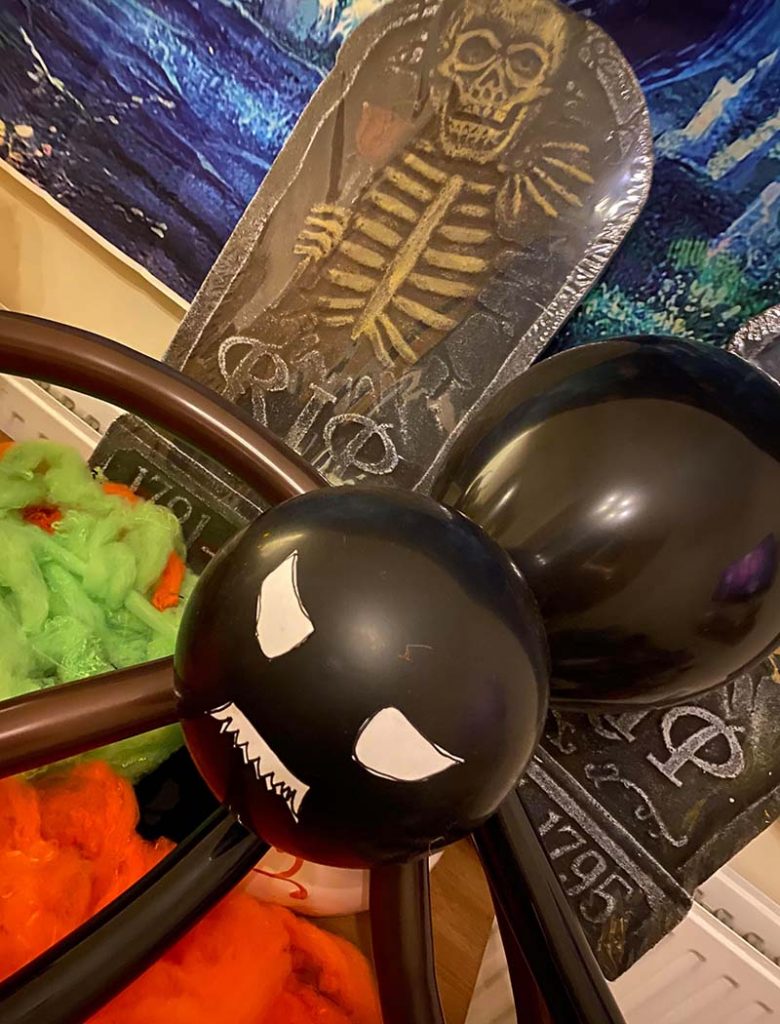 We really hope you found some of these ideas fun enough to try out.
Covid can cancel a lot of things but it can't cancel family fun Lots of love, hugs and balloons.
Piccolo xx